Hello again! I hope everyone is doing well today. Rordan and I are typing up this little post together. He managed to wake up earlier from his nap than usual. It seems like he might be phasing out his long 2-3 hour naps, and opting for a nice 1-1.5 hour nap. It's actually rare that I'm able to leave him during his naps, so maybe that was also a cause of his early waking. I guess only time will tell. The never ending schedule changing with a baby is something I'm constantly trying to get used to. I like structure, so it kind of throws me off a bit when it happens. Oh well, it's just another joy of Motherhood, that I will not ever regret.
So what was I going to write about again? Oh yeah! I have a dream. A dream of a beautiful, huge kitchen, with a built-in kitchen hutch. We currently have a beautiful hutch that my lovely, wonderful, husband agreed to purchase this year. I seriously love it. It's filled with all kinds of white kitchen ware, and it takes my breath away. It took almost two years to figure out what should go in our breakfast room. We actually use it as the dining room, because we opted to have our builder change the dining room to an office instead. Best decision ever! Okay, back to the hutches. Our breakfast room is quite large, so we had a full wall that just needed to be filled. I tried so many things. Mirrors, pictures, you name it, but I knew what it really needed. It needed a hutch. Built-in's weren't in the budget, so like I said, we purchased one, but my dream is to one day have them built-in. It all depends on whether or not we strike it rich. Hey! I can dream right?
Here are some of my favorite finds via
Pinterest
.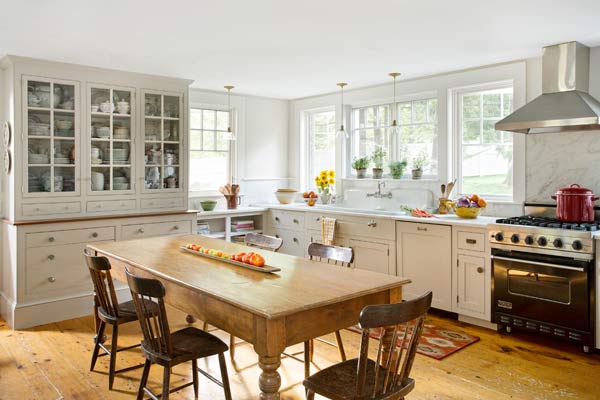 One day my friends, one day, this will be mine. (Continues to dream.....)